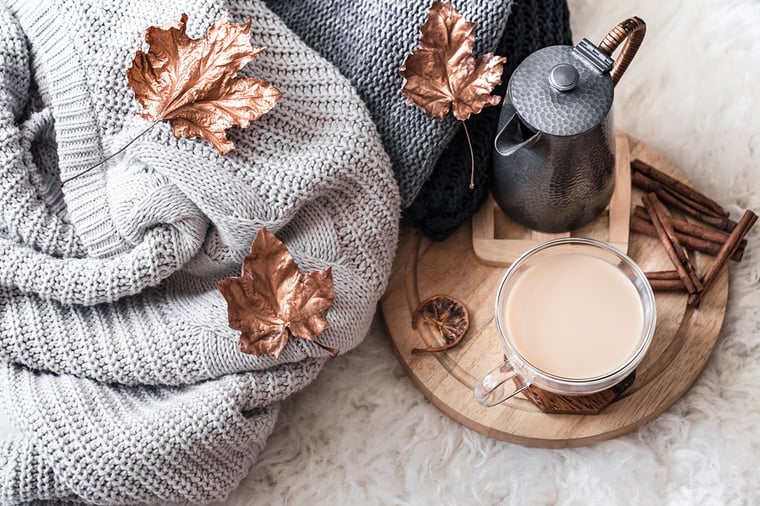 Fall comes along with chilly weather that's perfect for curling up on the couch with a cup of hot chocolate and a really good book. If you haven't turned your home into a cozy haven yet, now is the perfect time to do so. There are many affordable pieces you can add to your space to create a cozy atmosphere.
Adorn Your Furniture with Chunky, Knit Throws
Nothing screams "cozy" louder than cuddling up under a big, chunky knit blanket. When choosing throw blankets, opt for warmer colors, such as off whites or light browns. These season-inspired color accents are cool not just for the fall, but they are also neutral enough to be used throughout the year.
Layer Area Rugs
Layering textured rugs on top of your tile or laminate flooring will prevent you from cringing whenever your feet touch the floor. Get one to place beside the bed, another to place in front of your couch and another under your coffee table. For extra lushness and warmth, opt for heavier knits and textures. Don't be afraid to experiment with fringe, bold patterns or even animal prints. Be sure to choose contrasting patterns and textures so you can achieve a vibrant look.
Install a Beverage Station in an Unused Corner
Fall is the season for hot drinks. Drinking a hot beverage will make things cozier and also serves as a reminder to stay hydrated during the day. Make indulging in hot chocolate and foamy lattes a breeze by installing a beverage station in one of the unused corners of the dining room or kitchen.
Install Interior Window Shades
Interior window shades make a significant impact, not just on the interior décor, but also on the atmosphere one wishes to create. Besides helping you create a clean, modern look, they can also help create a cozy environment. They block the sun and UV rays, keeping your house cooler, and also enhance your room's aesthetic. Choosing warm colors will make the room more inviting while also bringing the fall colors indoors, adding to the coziness.
At Polar Shades, we are dedicated to providing our residential and commercial customers with high-quality interior and exterior shades. If you would like to learn more about the advantages of interior window shades, contact us at 702-260-6110 today for a free, in-home consultation.