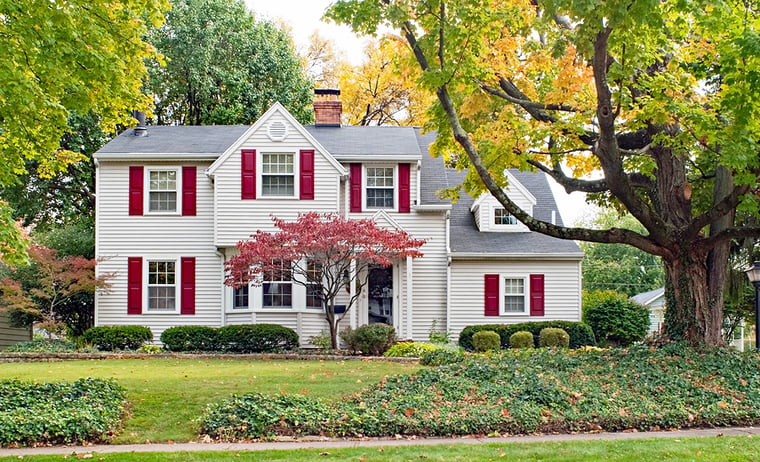 With all of the hype about spring cleaning, many homeowners forget to complete their fall home maintenance checklist before winter arrives. In fact, we believe that tending to these maintenance tasks is perhaps more important in the fall than after the winter. Before you get wrapped up in the holiday season, take a few hours to address these issues in and around your home.
Clean Out Your Gutters
Living in Las Vegas has its perks, including limited rainfall and virtually no snow. However, homeowners still need to give their gutters proper maintenance. Clear them out, and clean them. If they look damaged or loose, consider fixing or replacing them.
Check for Air Leaks
Even the smallest cracks and crevices around your home can lead to heat loss. Protect your comfort during the winter by recaulking and sealing your home during the fall. Consider calling a professional to assess your home for leaks and air seal it completely.

Get Your Roof Inspected
You can visually check for dark spots, missing shingles or damages, however, we recommend you ask a professional roofing company to come out and evaluate your roof to ensure no major damages or animals are present.
Service Your HVAC System
If you want to stay comfortable throughout the winter, you need to make sure your heating system is ready to work. Ask an HVAC professional to inspect the system and give it a tune-up so you'll have reliable heat when you need it most.
Clean Your Fireplace
If you have a fireplace, make sure it's in working order. Consider having the chimney cleaned and inspected to ensure it works properly.
Replace Batteries
Go through your home and replace your smoke detectors' and carbon monoxide detectors' batteries. This is especially important if you plan on using your fireplace throughout the season.
Install Exterior Shades
With the weather finally cooling down, you'll want to spend as much time as possible enjoying your outdoor spaces. Consider installing exterior shades to block heat, sunlight and UV rays, keeping you cool and comfortable. These attractive resources are available as manual or motorized shades and are built to last.
As the industry leader in sun control products, Polar Shades has helped dozens of Las Vegas homeowners enjoy a more comfortable outdoor space with exterior shades. We manufacture every shading product in our own facility, using only high-quality materials, top-of-the-line equipment and an experienced team of professionals.
Our exterior shading solutions can block up to 98 percent of solar heat rays from penetrating your interior. Products, like our exterior ZipRite Shades, deliver protection not only from the sun, but also from insects, rain, wind and debris. Enjoy the winter in your outdoor area as comfortably as you can.
Contact us today to learn more about our affordable shading solutions and our quick-and-easy installation process. Be sure to download our Shades vs. Blinds Guide to discover how exterior shades from Polar Shades can deliver incomparable comfort while enhancing the look of your exterior.