Roller shades have been used in homes for some time now, especially for decorative window coverings. Motorized roller shades are considered more stylish as they accommodate a modern lifestyle with their enhanced operating mechanisms.
Why You Should Use Motorized Roller Shades in Your Home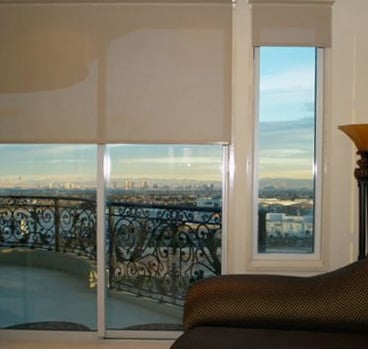 As the name suggests, motorized roller shades operate on a rolling mechanism to cover windows in your home. Several types of window shades exist but motorized roller shades are ideal for window use since they can easily be operated using remote controls or switches -- meaning you don't have to reach your window to roll manually.
So if you're looking for something to increase the aesthetic appeal of the interior of your home, roller shades are a great and affordable option compared to other window covering types.
Roller shades are also known for their durability because they lack slats or louvers, which tend to bend over time with usage—similar to what happens with blinds.
Roller shades are available in several different materials such as semi-opaque, blackout, sheer or semi-sheer fabrics allowing you to find one that fits your décor. Varieties available include simple mesh to rich fabrics in different hues with eye-catching designs blending with your home's interior and style, creating a focal point.
Polar Shades Delivers Best in Class Motorized Roller Shades
At Polar Shades we understand the need to provide clients with the best options for motorized roller shades services. This is why we take the time to digitally print graphics on roller shades for customized solutions—giving you more control over the design aspects of your order.
Another way we give you more control of your roller shade order is by offering a multitude of different choices. Ranging from light and temperature control to energy-efficient options we strive to provide our customers with the exact solution to fit their needs. We also offer a limited lifetime warranty on our products, because we are confident that we are providing our customers with the highest quality shades available.
If you are looking for a great option for motorized roller shades or for more information on specific motorized options available, call Polar Shades at (877) 260-6110 or find a dealer today!