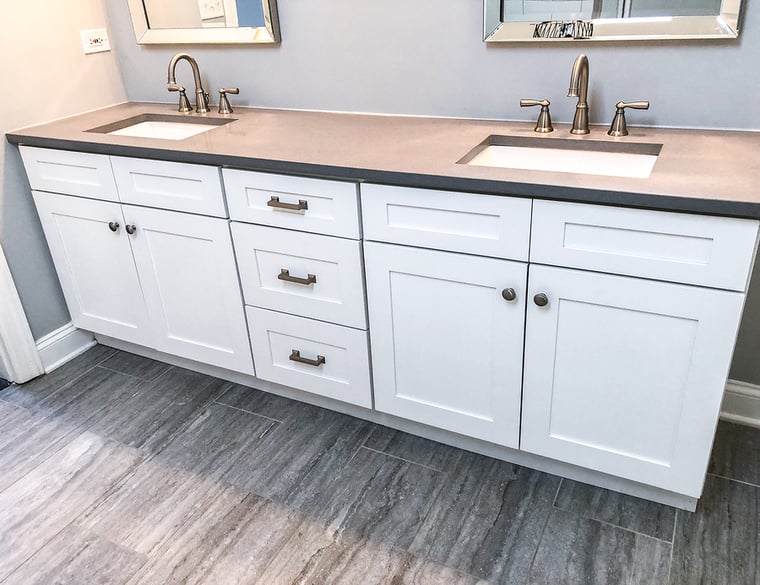 Your master bathroom is meant to be a place of relaxation. Whether you want an opulent, elegant look or a minimal, sleek design, your countertops play a large role in the aesthetic of the space. Here are some top choices that are versatile, durable and easy to maintain:
Natural Stone
You have many fabulous options when it comes to stone: granite, marble, slate, limestone, and soapstone, to name a few. These luxury materials can enhance the look of your master bathroom, especially granite and marble, which add a touch of luxury. These stones are available in a variety of colors that can match any interior.
They are durable, however, they require occasional sealing due to their porous nature. Natural stone also requires more maintenance than materials like ceramic or porcelain. Some stones, like soapstone and slate, are a little less porous and may be better suited for bathrooms than marble or travertine.
Ceramic/Porcelain Tile
Tile is a traditional material found in master suites across the country. This easy-to-install material is considered an affordable alternative to stone and is available in a variety of designs. Though it is easy to clean, the grout can get especially dirty.
Concrete
Concrete is perhaps the most durable countertop you can choose and can be customized to match your bathroom's aesthetic. Like natural stone, it is porous and requires routine maintenance to retain its look and durability. This is a trendy choice for modern looks.
Decorative Laminate
If laminate of the '60s and '70s comes to mind, then you're in for a big surprise! Contemporary Formica is an affordable countertop material that can be designed to mimic the look of stone, wood or virtually any other material. It resists water and bacteria exceptionally and is quite durable. The biggest drawback, however, is that over time it may weaken, resulting in damages that can't be repaired, only replaced.
Are you considering a master bathroom remodel? After you've picked the best material for your countertops, add another element of beauty and functionality to the bathroom with our interior window shades. These high-quality products from Polar Shades will keep intrusive light and heat out, allowing you to relax in your serene sanctuary. Contact us today to schedule a free, in-home consultation.