The home office is an often-overlooked room in the home improvement process. People love giving their kitchen, bathroom and bedroom a facelift, but frequently forget to give this space the attention it deserves. Here are some easy ideas for adding pizzazz to your home office space:
Add Personality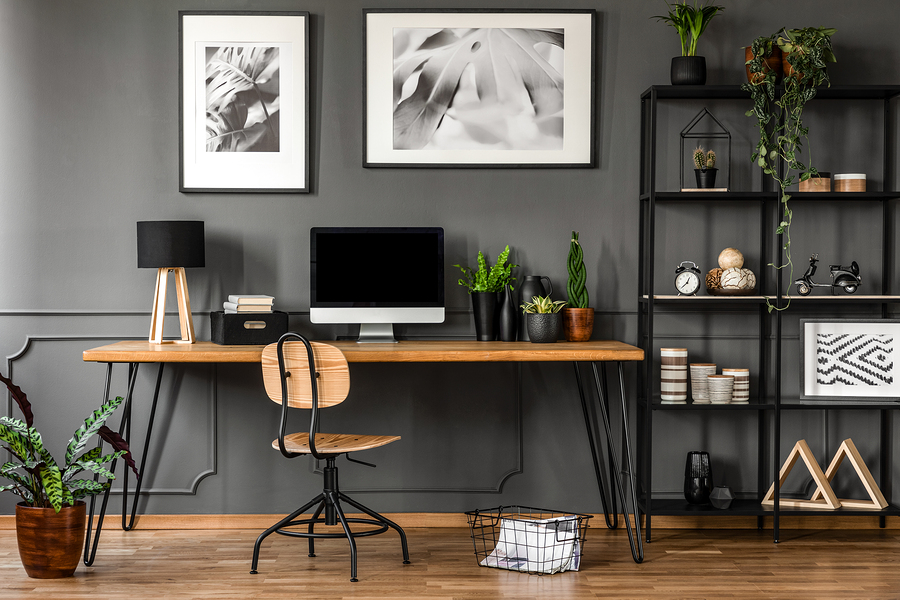 Most home offices have one problem in common – they're boring. Typically, the room will be neutral shades of gray and white without any real décor. A home office should be an energizing space that makes you feel inspired and motivated.
You can add some personality to the space with these lively touches:
Pick out some potted plants to bring life to the space.

Add a decorative rug for a pop of color.

Paint the walls a rich or bright color that you love.

Include one or two colorful decorative pieces for your desk, like a sign with your favorite motivational quote.
These are just a few of the many easy ways to add your unique style to a room.
Find Storage Solutions
Clutter can be a serious distraction in any space. It can be hard to get things done when you can't remember where something is, or you have a pile of unsorted papers staring at you. Get organized with storage solutions to make your life easier.
Wooden drawer organizers help keep things in place, so they don't slide around every time you open or shut the drawer. Filing boxes give you a place to keep all of those important papers organized and accessible. If you have a lot of pens, pencils and highlighters, invest in a desktop pencil cup with multiple sections. Sorting by color or type makes it easier to grab the desired writing utensil quickly. Find easily accessible places for things you use frequently, like notepads or a calculator.
Let the Light in
The amount of light in a room can greatly impact how it looks and feels. Every home office needs a desk lamp and plenty of overhead lighting. But don't forget about natural light as well. Studies have found higher levels of productivity in office spaces that have lots of natural light.
With natural light, however, you often get the glare from the windows. Window shades are the perfect additions to block glare and UV rays while adding luxury and style. Our shades come in a variety of fabrics, colors and styles to accommodate any interior design.
If you are interested in installing window shades for your home office, contact Polar Shades at 702-260-6110 for a free, in home consultation.