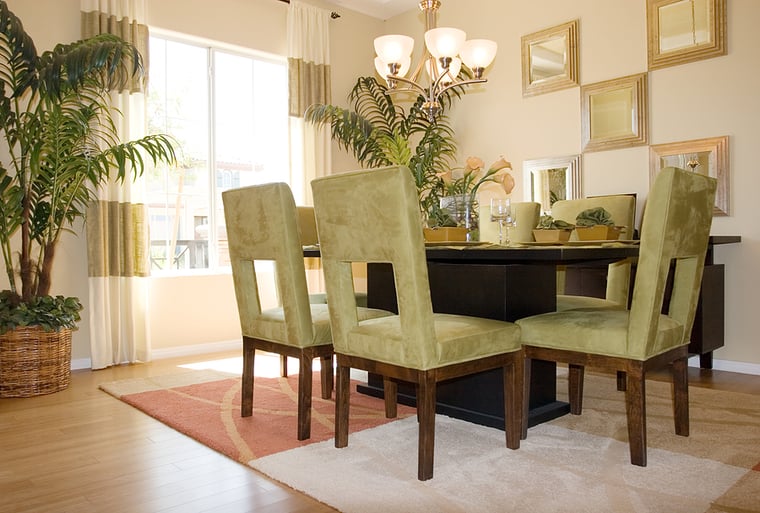 When it comes to decorating, the dining room often creates a challenge for homeowners. Many will choose a table and chair set they love but run out of ideas after that. It's also easy for the dining room to take on a harsh, uncomfortable vibe unless you put some effort into softening it up. If you're ready to take your dining room from cold and boring to inviting even alluring, we've got you covered. Start with these creative design ideas:
Choose a Neutral Palette
If you enjoy entertaining in a casual environment, a neat, simple design paired with a neutral palette is a popular option. Look for a pedestal-based table instead of a traditional four-legged style. This will create more space so that guests can easily move around the room.
Choosing neutral colors helps the room's style blend with the rest of your home while adding some sheer drapes will give the room a softer look and feel. Choose a light-colored area rug that is easy to clean and will stand up to heavy traffic.
Finally, finish off the look by adding some large, potted trees to bring a bit of the outdoors in. This look works extremely well in dining rooms with large windows or French doors.
Focus on Light & Contrast
Placing a large, bold light fixture above your dining room table will create visual interest while also giving the room a bright feel. Create contrast and give the room some extra personality by pairing a dark, heavy table with a light, airy fixture. This look works well in dining rooms that are painted in light, neutral colors. It can also make a small space feel much bigger.
Add Some Vintage Charm
There's no rule that says your dining room furniture has to be boring! If you're the type of person who enjoys vintage shopping, it's easy (and fun!) to integrate some of your favorite finds into your dining room design.
Try pairing a heavy wooden farm table with a couple of painted slat chairs, some oversized wing chairs and a high-back bench. Tie the look together by adding an interesting area rug and some throw pillows to complete your overall design.
Embrace Natural Lighting
Lighting is also an important element when creating a "soft" design. By adding some Polar Shades to your dining room, you'll be able to control the lighting that comes into the room at all times. It will also cut down on harsh glare and add UV protection so your gorgeous dining room furniture will last for years.
We have a wide variety of styles and colors available so you're sure to find the perfect shades to match any design style you choose. Contact us today at 702-260-6110 to schedule a free consultation so we can show you exactly how this upgrade will impact the look and feel of your dining room space.