There probably isn't a home in America that couldn't benefit from decluttering, and yours is no exception. You're a time manager and already know it's best to take what could be a wholesale, room-by-room offensive and break it into smaller, more manageable pieces.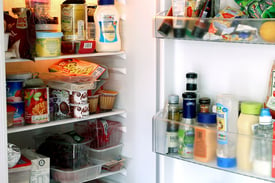 When you can spare at least 15 minutes, attack these six infamous "clutter zones" one at a time. You'll get more done, clear more out and heighten your sense of accomplishment. It might even feel like the sun is shining, even when it's not:
Clutter zone No. 1: The refrigerator door. You don't want to look, but you should. The expiration dates on a few bottles of ketchup and salad dressing have long passed, meaning it's time to clear out the goods to make room for a fresh supply.
Clutter zone No. 2: The utensil jar. Even if you're not a gourmet cook, chances are your jar is stuffed with so many utensils people may think you are. Place them all on the counter, look for duplicates and return only those you use every week back to the jar. Stow the rest in a drawer.
Clutter zone No. 3: The food storage container cabinet. You wouldn't be human if you didn't try to tidy up this cabinet by opening it up and jostling bowls and lids around. But you've got 15 minutes, so you may as well take everything out, stack everything neatly and then return everything to its rightful place. Pitch the single pieces.
Clutter zone No. 4: The cleaning supply cabinet. You may have some supplies stored in the kitchen, some in the laundry room and some in the garage. Separate. and merge duplicates and toss products you no longer use or need.
Clutter zone No. 5: Sock drawer. You may have to multiply your 15-minute time allotment here, depending on how benevolent you feel toward your family members. Turn this stuffed drawer upside on the floor or bed and begin inspecting socks for holes or snags. When you're done discarding, match up pairs and bid the "widows" or "widowers" goodbye.
Clutter zone No. 6: Magazine, newspaper and catalog bin. So, you're saving a 2015 ad for laptop computers. It might be fun to see what advancements have taken place in two years' time. When you're done chuckling, recycle the holdovers. Who said decluttering isn't fun?
Come full circle in your efforts to lighten and brighten your home by making an in-home consultation with the window experts at Polar Shades. We have a full range of colors, styles and patterns to complement windows in any room of your home, which you'll be proud to show off once you've decluttered some clutter zones. Contact Polar Shades at 702-260-6110 for a free in-home consultation today.