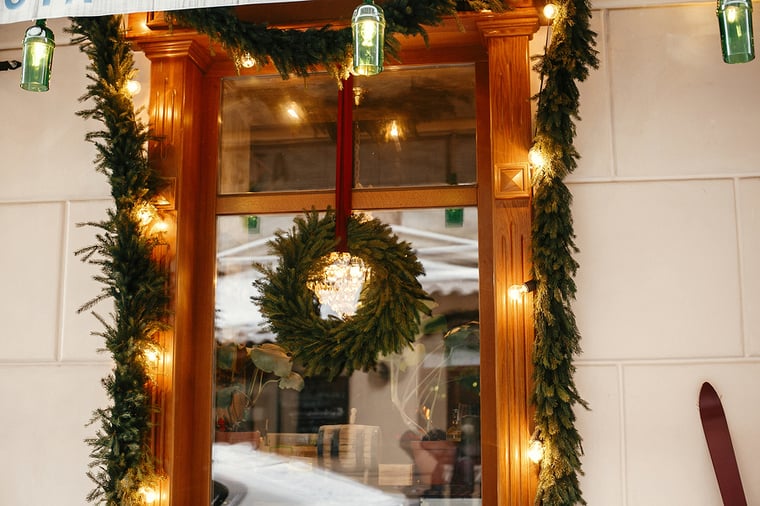 Few things are more synonymous with the holiday season than festive lighting. Celebrate this merry time of year with decorative string lights. Here are some creative ideas to add some cheer to your home:
1. Decorate Your Shrubs, Trees and Other Greenery
A strand or two of colorful lights is an easy way to add a touch of holiday cheer to your landscape. Consider using strands with large, vintage-inspired bulbs or lighted ornaments to adorn trees of all varieties. For your shrubs and bushes, invest in a netted Christmas light. These nets make it quick and easy to evenly disperse the lights throughout your shrubbery.
Don't forget your inside greenery too! Wrap a strand of lights around faux trees and plants for a touch of holiday cheer. If all of your electrical outlets are already in use, consider battery-powered lights.
Is your home lacking in greenery? Another option is to place a few branches (real or faux) in a vase and wrap each branch in lights. You now have a beautiful, festive decoration that you can place anywhere in your home.
2. Highlight Your Walkway and Driveway
Placing outside lights strategically around your walkways and driveway is a terrific way to turn your home into a holiday wonderland. You have a few options for showcasing these spaces:
Install lights along the sides of your pathways and walkways. Stick with plain lighted markers for a classic look or check out markers that use holiday symbols and characters from your favorite holiday shows for a more whimsical look.

Use rope lights along the borders. Rope lights are a cost-effective way to add lights to a large perimeter. Many also give you the ability to use a smartphone app to customize the look of the lights or put the lights on a timer.

You can also use luminaries to deck out your walkways. Add flameless tea lights for more subdued lighting, or a small strand of battery-powered holiday lights for a bolder look.
3. Decorate Your Children's Play Structures
If your home has stairs, wrap stringed lights around your banister. You can also couple it with some festive garland. If you don't have stairs, you can do this with standing lamp poles, or place the lights and garland along the edges of a decorative table, such as a side table in your living room. This technique can be used virtually anywhere to add a holiday touch throughout your home.
4. Jazz Up Your Holiday Wreaths
Wreaths are a gorgeous decoration on their own, but you can enhance their beauty with holiday lights. Weave a small strand of battery-powered lights around your existing wreaths to brighten their appearances.
Protect Your Privacy During the Holidays
The holiday season is a popular time for entertaining at home. While celebrating with loved ones, you can preserve your privacy with interior window shades from Polar Shades. They come in a variety of colors to match your décor, as well as motorized options for easy operation. In addition to protecting your privacy, they also help to preserve your furnishings by blocking harmful UV rays.
Give your home the gift of window shades this year. Call 702-260-6110 to schedule a free, in-home consultation today.