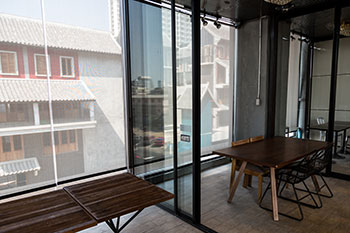 Restaurants have to undergo all types of safety requirements. Chefs and kitchen managers are rigorously tested on the best safety techniques for food handling. Public health inspectors routinely inspect food service institutions to ensure every applicable safety requirement is being followed. Restaurants also undergo electrical and structural inspections to ensure the building is safe for their customers and staff.
However, despite all of these varied safety checks, there is one danger continually overlooked in restaurants and other private businesses: window shade cords. While window shades might appear to be an innocuous part of any home or business, they can pose safety concerns for businesses, particularly in relation to strangling. And these aren't exactly the "freak accidents" some headlines might claim them to be. Regulators have been aware of the inherent hazards in window shade cords since the early 1980s, when a federal study determined among the most common causes of child strangulation, drapery cords contributed to an unprecedented 41 deaths. Since that first study, there have been an additional 405 children's deaths. What makes these cords so dangerous? A child can easily get entangled in the loops of inner drapery cords or dangling side cords within seconds. Once trapped, most are unable to cry out as they can lose consciousness within 15 seconds, and can become brain dead in just under a minute. Such a chillingly quick and silent death can happen within the presence of a playmate or sibling and with a parent or other guardian just footsteps away.
This is particularly a problem in privately-owned and operated restaurants and stores where owners and managers without children are unaware of the dangers these products pose, and thus have many tables and booths situated within inches of dangling window cords.
While the U.S. Consumer Product Safety Commission has worked with the industry since the 1980s to develop more comprehensive safety measures to stop the rising death toll, many manufacturers have been slow to respond. Children are continuing to die at a rate of nearly once a month. It's been the parents of these children who have been the strongest advocates for change. Since the 1990s, change has come with the introduction of innovations like cordless shades and special locking devices. However, a problem still remains with consumers not updating old shades with those that have these safety additions or the cordless alternatives.
At Polar Shades, we have been following this safety debate very closely and have engineered a product designed to keep cords safe around children. Our manual window shades all include a special child safety tensioner device that makes our shade's inoperable if not installed properly which locks the cord or chain securely in place to prevent strangulation; we also provide a number of cordless and motorized options.
To learn more about the safety features and other unique characteristics of our window coverings, contact us at 877-260-6110 today. Not sure which type of covering is best for you? Download our guide Shades vs. Blinds.