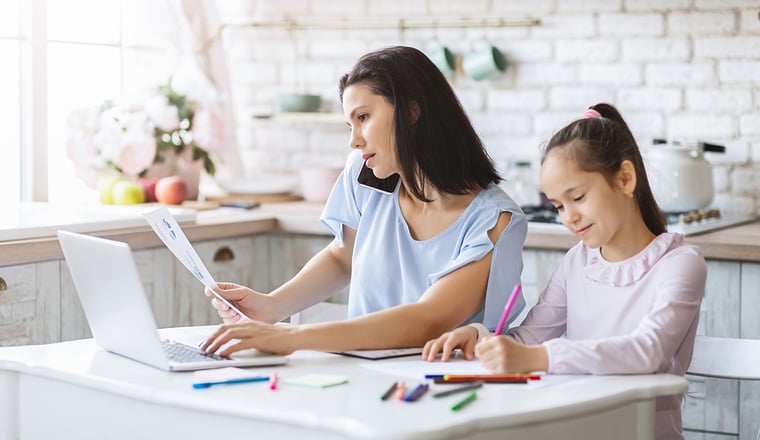 The kitchen is the heart of any home. Other than cooking that goes on in the kitchen, it is also an ideal space for entertaining guests and bonding with your loved ones. But you can also turn your kitchen into a highly functional home office without interfering with its other functions. The most important elements to consider when creating a kitchen office are storage and accessibility. Below are a few tips to help you create a kitchen office that is not only functional but stylish, too.
1. Ample Storage
Organization is key to any office, and your kitchen office is no different. When creating your space, ensure you provide as much storage as possible for all your working supplies, such as notebooks, files and even electronics like printers if necessary. You can incorporate a secretary desk that folds back into your cabinets to help keep your office space tidy when not in use.
Built-in cabinets with shelves for your paperwork are also essential. For printers, a closet or a drawer will work just fine to conceal it when not in use. Maximize your storage space with storage baskets and pull out drawers instead of door cabinets as they take up less space.
2. Keep It Away from the Cooking Area
Just because your office is located in the kitchen doesn't mean it should get in the way of your cooking and entertainment. Keep your kitchen office out of the way by situating it in a corner, by your kitchen window, or at the end of your kitchen working space. This way, it doesn't interfere with other functions of your kitchen and you also won't be much distracted when you are working. You can even locate it next to an adjoining room so that it is both close to the kitchen but far from your cooking and food preparation areas.
3. Include a Power Source
You are going to have electronics, like a laptop and phone, in your kitchen office, so a source of power is essential. Include power sources to keep your devices charged up as you work. Instead of going for the ordinary sockets that require adapters, consider USB wall outlets to eliminate the need for carrying bulky adapters. You can place the power outlets under the upper cabinets or below your working table for a streamlined look.
4. Proper Lighting
Being an area that you will be doing a lot of reading, your kitchen office should be adequately lit to avoid straining your eyes. In addition to the natural lighting from your kitchen window and the kitchen overhead lights, install task lighting specifically for your office. You can do this by installing the lights under the cabinets to keep your work desk sufficiently illuminated. A table lamp is also ideal for when you don't want the full brightness of overhead kitchen lights.
5. Durable Floors
With an office in your kitchen, you can expect more foot traffic, as your family members will be spending more time in there. For this reason, you need durable floors that are also comfortable and easy to clean. Wooden floors are the perfect choice because they are not only safe for kids and pets, but they are also good for your feet compared to tile, which can get really cold. You can also opt for a mat or rug if you already have floor tiles to reduce the effect of cold tiles on your feet.
With the above tips, you can create a kitchen office that is functional without compromising the style of your kitchen. Interior shades from Polar Shades can help you control the amount and quality of lighting in your office space by filtering out UV rays while still letting the sunlight in. Contact us today at 702-260-6110 for a free consultation.