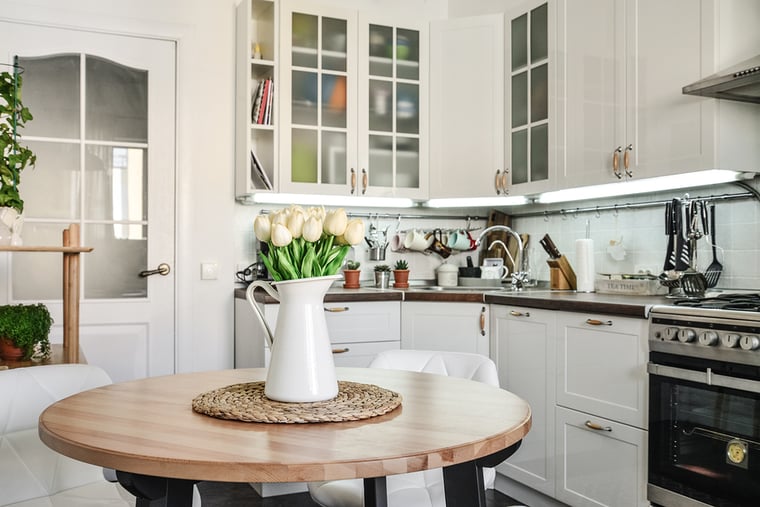 Are you planning on renovating your kitchen to showcase an all-white aesthetic? You'll want to make sure the other elements of the space complement this color, especially your kitchen's surfaces. Here are the best countertop options for white kitchens:
Pure White Stone
Naturally, the best way to top off an all-white kitchen is to use an all-white stone for the countertops. A marble stone that is either pure white or softly veined will look stunning in this space and give you a surface that's practical for heavy use.
Dark Stone
You could lean the opposite direction and make a dramatic statement with a bold, black slab of granite for your countertops. Black against white creates the ultimate contrast that can make a space look even more refined.
Wood
Real or artificial, natural wood looks amazing with all-white cabinetry and flooring. The sleekness of the white harmonizes with the warmth of the wood to create an attractive, calm space. This is an especially good option if your kitchen leads into a room with rustic or finished wood décor.
Stainless Steel
By adding stainless steel countertops, you can blend the appliances with your kitchen surfaces and create a firm duality in the space.
Concrete
Similar to stainless steel, the clean and crisp look of concrete is a great choice for minimalist homes that feature more modern design trends. A reliable surface that stands out without clashing, a concrete countertop is a great alternative to stone.
Splashes of Color
Who says you can't add a splash of color to your all-white kitchen? Because each individual color makes us feel different emotions, integrating a strong presence of a single color can drastically influence the mood of the room. For instance, a blue will bring more peace to the space while a dark green will make those in the kitchen feel at-one with nature.
Keep your white kitchen feeling comfortable and radiant with window shades from Polar Shades. Intrusive light can reflect off of your windows and white surfaces, causing the room to feel too bright. With window shades, you can control the levels of natural light, block glare and UV rays and keep your kitchen comfortable all year long. Polar Shades offers a variety of colors that look fantastic in white kitchens. Contact us at 702-260-6110 to schedule a free, in-home consultation and find the shades that perfectly complement your kitchen countertops.