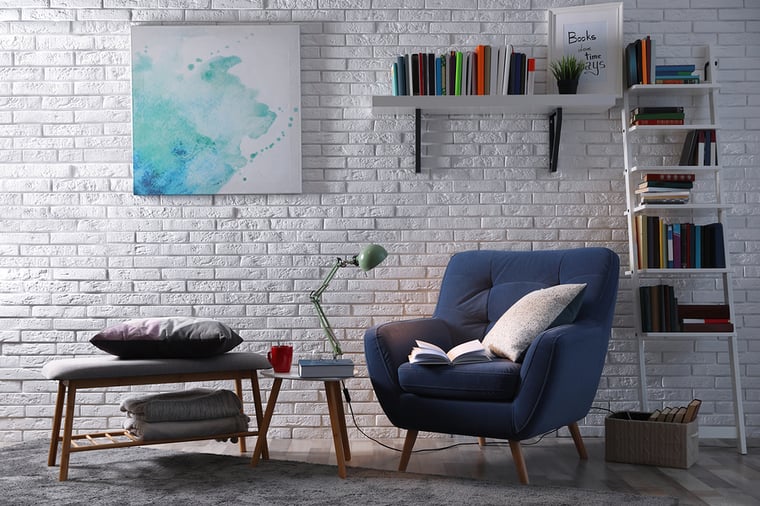 All homeowners want their rooms to feel inviting and comfortable for their family and guests. Although color schemes, décor and natural light can make a space feel welcoming, the furniture pieces you choose can make or break how comfortable a room is. Here are a few comfortable and inviting furniture pieces that are perfect for every home.
Sectional Couch: For the ultimate living space comfort, there are few better options than a sectional couch. These enormous sofas offer plenty of room for you and your family to stretch out and relax without feeling cramped.
Footrest: Although a coffee table is a fantastic choice, you can still retain the functionality of a table while also giving your feet a comfy place to rest. A footstool is a great piece to integrate into your living space, especially if it complements a sectional couch.
Plush Armchair: An office or study should include a comfortable armchair for working or relaxing in. Many people enjoy leather armchairs in libraries and dens, but a fabric material will also deliver the relaxation you seek.
Reclaimed Furniture: What better way to enhance your style and help the environment than by integrating reclaimed furniture pieces into your living spaces? Recycled or upcycled tables and shelving are one-of-a-kind pieces that give your home an added touch of warmth.
Hutch: We're surprised that more homeowners don't have hutches in their living spaces. These freestanding pieces are great storage solutions in the kitchen, den, dining room, and craft room. From displaying fine china to containing all of the materials needed for your next arts and crafts project, a hutch is a versatile piece that adds a homey feeling to any space.
Farmhouse Table: Bring everyone together around a farmhouse table and you'll truly feel at home. These large pieces offer a seat at the table for everyone and often define a dining room. A farmhouse table will look especially welcoming in a rustic-themed room with other natural woods and warm lighting.
Don't let the desert sun disrupt your rest and relaxation — beat the heat with interior shades from Polar Shades. Our revolutionary sun shading solutions block the sun and UV rays, which reduces heat and glare and protect your décor and furniture from sun damage. Our shades are available in manual or motorized configurations, as well as a variety of colors, fabrics and designs to match any design style. Contact us at 702-260-6110 today to schedule an in-home consultation with one of our expert technicians.