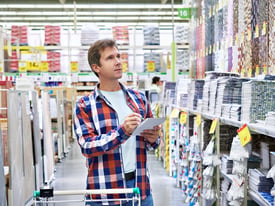 Tile comes in all shapes, sizes and colors. You can install it on floors, walls or as decoration. It can make a mural or mosaic and can transform an otherwise ordinary living space into something fresh, new and exciting.
However, choosing the right tile for your home can also be a bit overwhelming. Using the right tile in the right space typically comes down to three factors: your budget, your personal tastes and your space. Here's a look at 10 tips to help you choose the right tile for any room in your house:
1) For Dark Spaces
If you want to fill a dark room with extra light, you can't go wrong by going glossy. Tiles that have a highly polished finish will bounce light around the room, making the space feel brighter than it actually is.
2) For the Funky
If you're interested in using shapes or patterned tiles (which can give a room a cool, funky feel), go with a cool matte. This will help keep your tile design from looking too wild and crazy and overwhelming your eyes.
3) Make it Shine
Many people overlook gold, silver and coppery tiles, but they are an easy way to add a touch of shimmer, shine and luxury to any space.
4) Use Color
It's amazing how a bright color can breathe life into almost any room. Using tiles with a colorful glaze can transform an ordinary room into something special.
5) Take it to Another Dimension
3D tiles? Indeed! Textured tiles range from the wavy to the gentle--and they all add new dimensions to walls.
6) For a More Traditional Look
If you've got a classic-looking room filled with fine wooden furniture, consider going with encaustic tiles. Their patterned designs allow you to keep the rest of the room simple, which is a great way to create a classic look and feel.
7) Hone it
Honing your tile--especially on floors--is a great way to give a tile floor a smooth, crisp look without sacrificing traction.
8) For the Timeless
If you want to create a timeless, classic look, consider going with terra cotta tiles. They're made from clay, have a natural matte finish and are incredibly durable and relatively inexpensive. Terra cotta tiles typically last as long as the homes in which they are installed.
9) For the Rustic
Limestone tiles look like they've been around for hundreds of years--but they never seem to age. They are great for creating a rustic, natural look in almost any room.
10) Be Bold
If you want to be bold, you can't go wrong with honed slate. It's a timeless tile choice for kitchens because its polished black matte finish looks great and is incredibly easy to clean.
Consider Window Treatments
Of course there are other things to consider--like how the tile will work with your counters, furniture and window treatments. If you're in the market for an indoor upgrade, connect with the experts at Polar Shades today for a free in-home window shade consultation. Call 702-260-6110 to get started today.