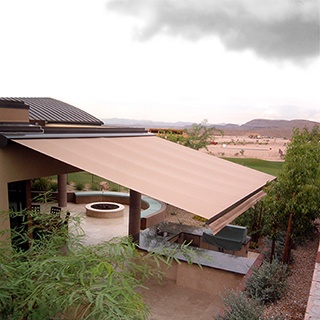 Any item of your home is part of a long-term investment. From floor to ceiling, indoors to out, every space in your place has cost you hard-earned money. As such, putting TLC into each item helps ensure longevity of each product.
Fabric accessories on your home can be particularly susceptible to damage. Elemental effects such as sun and heat are often culprits of destruction to awning fabric in the greater Las Vegas area. Other damaging factors include regular wear and tear, improper storage and use, misuse of cleaning products and other products used on the fabric.
Here are some tips to help properly care for your awning fabric:
Cleaning.

To protect against mildew, you should clean your fabric awnings regularly. Be sure to use a soft brush and some mild soap to remove debris. Be sure to rinse the soap off immediately, and allow the fabric to dry properly before putting it away. Hose your fabric awnings regularly, and aim for hot, sunny days to ensure the fabric dries well before you put it away. Be mindful not to use harsh cleaning solutions or abrasive cleaners, as these can damage the fabric. Improper cleaning can lead to mold, mildew, and excessive dirt buildup, so it is important to clean your fabric awnings regularly and properly to achieve maximum benefits from your investment.

Surroundings.

As an outdoor fixture of your home, your fabric awnings are exposed to a number of elements besides the sun and weather. Be sure to keep shrubbery and vines away from your fabric awnings, as these plants can often contain acidic substances that can harm the fabric. Leaves and twigs can also stain the fabric if on the fabric too long. It's important to regularly remove debris to ensure the quality and coloring of your material is maintained. Don't grill under your fabric awning. Specifically, you want to avoid using a charcoal grill under the enclosed area. Charcoal smoke can damage and stain the fabric material.

Usage.

If excessive winds are kicking up, be sure to pull your retractable awnings in so they're safely stored away from the elements. Don't store your fabric awnings if they're damp or wet. Wait until they're completely dry to avoid inviting the growth of mildew. Keep an eye out for small rips and tears. Over time, these can occur naturally due to a number of factors. If you catch them early enough, they can often be repaired by professionals before you're faced with the need to completely replace your fabric awnings.
If you are in the market for high-quality awning fabric ready to be installed at your home by experienced professionals, you're ready to find a Polar Shades dealer!