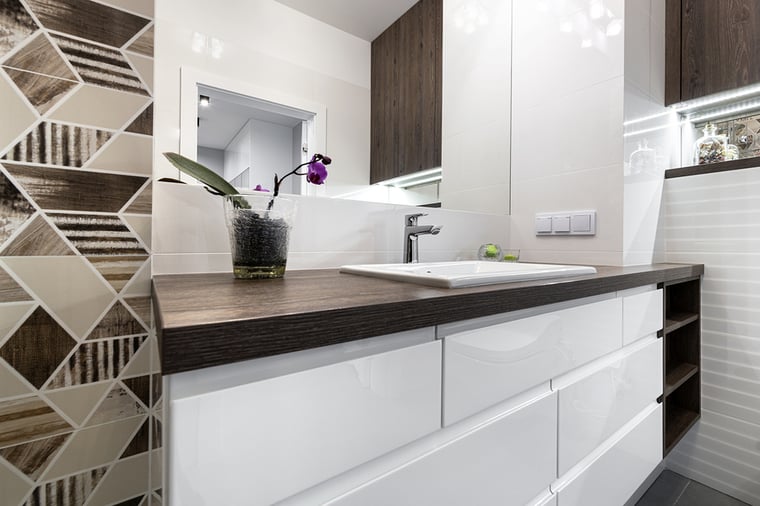 Is your bathroom in need of a refresh? From a total remodel to a few small upgrades, there are many ways to breathe new life into a bathroom. Before you get started, here's a peek at some top design trends for 2020 and beyond:
More Ways to Make It Your Own
"Customization" is one of the biggest buzzwords you'll hear this year. Many manufacturers are creating their products with "mix and match" options that allow you to truly personalize your space. For example, you'll find many sinks, showers and tubs that allow you to choose the finish and style of each piece, from the faucet and handles to top plates and other accents.
A Variety of Accent Lighting
Designers and homeowners alike are taking advantage of some of the new bathroom lighting options that have recently been released. Now, it's easy to create a unique and upscale feel with fixtures like sconces, pendant lights and even chandeliers! This is an excellent way to update your bathroom without taking on a major project.
New Shapes and Finishes
Sharp, angular-shaped faucets are trending right now, as are many types of pieces with matte white finishes. Look for this trend in sinks, tubs and more. You can expect to see this design trend in modern bathrooms for at least the next few years.
The World's Smartest Showers
There have also been some major innovations when it comes to showerheads. From aromatherapy-infused showers to Alexa- and Google-enabled systems, stepping into the shower each morning can now feel like taking a step into the future. With a simple "Good Morning" your shower can now automatically turn on, reach the ideal temperature and adhere to a variety of other settings you choose.
Another exciting innovation is shower systems designed to create a satisfying experience while using significantly less water. Now, you'll find showerheads that use atomization technology, which splits water drops so they offer more coverage with less waste. Other new showerheads allow you to choose the size of your water drops, from a fine mist to large, chunky raindrops, with just a click of a button.
Simple Update Kits
If you really want an upgrade but have been hesitant to dive into a remodel, you'll love the new bathroom kits that are taking the industry by storm. These sets typically include everything you need, including the toilet, vanity, tub, fixtures, fasteners, caulk, mirrors, towel racks, and more. They're designed to allow two people to do a complete bathroom upgrade in mere hours!
Whatever design style you choose for your bathroom, Polar Shades offers window shades that will beautifully accentuate the aesthetic. Our high-quality interior and exterior shades are built to last and come in both motorized and manual configurations. Contact us at 702-260-6110 to schedule a consultation or visit our showroom today.