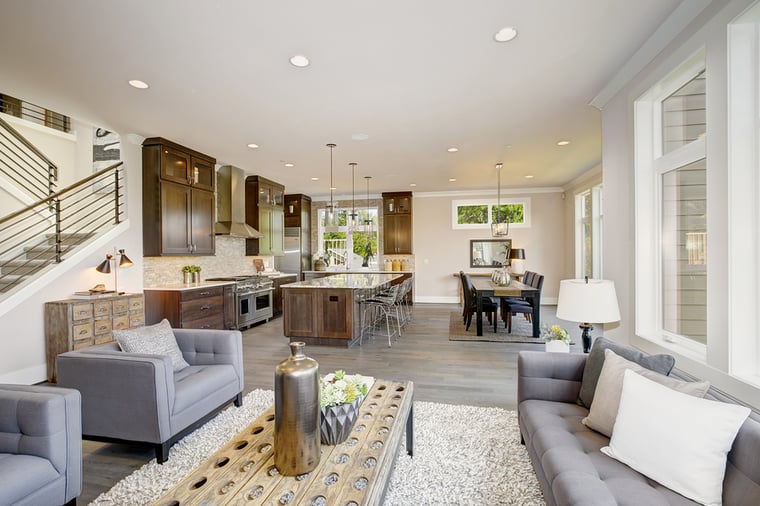 Your home should be a reflection of your personality. There are so many different interior design styles to choose from that it may be difficult to decide which style fits best in each room. Here are a few interior design tips to help you decorate every area in your home like a pro:
Traditional vs. Modern
The first, and perhaps the most significant, decision homeowners need to make is whether or not their interior design will lean to the traditional or modern side of interior design. A traditional style looks to history for inspiration, focusing on antique pieces, refined colors and luxurious textures. A modern style focuses on form over fashion, showcasing strong shapes, minimalist décor and clean color palettes. For a traditional style, incorporate marble and wood into the room. For modern, find great glasswork, stonework or metalwork for a sleek look.
Classical vs. Contemporary
A mid-century style is very classic, as it focuses on natural and organic designs. These spaces are clean and draw from classical designs, however, they also connect to the modern styles of today. Bring in a few period pieces for your décor and try to find artfully designed natural wood furnishings that don't clutter the space.
Contemporary styles are on the cutting edge of design and feature the latest trends. Technology integration is almost essential in the contemporary design of today, as are open spaces and minimalist décor. Use negative space and base colors like white and beige to capture a contemporary style.
Industrial vs. Rustic
If you desire a room that resembles a big-city loft, industrial is the design strategy for you. Found in urban spaces, the industrial style features neutral colors, raw or salvaged materials and ambient lighting. Consider integrating reclaimed wood and exposed brick or steel supports.
Rustic style also embraces natural materials, but does so in a way that's more rugged and outdoorsy. Lots of natural elements and soft, neutral colors are common with this scheme.
More Designs from Around the World
Do you want to really inject a sense of style into your favorite rooms? Then there's no better way than looking at the design trends that are popular throughout the world. Consider a beachy backdrop in a coastal design or a Scandinavian style room that prioritizes light and simplicity. The colorful Mediterranean style is perfect for kitchens.
Would you like a way to not only enhance the look of your room but also improve your comfort? Interior shades from Polar Shades are innovative, affordable shading solutions that will match any room's design style while reducing heat and glare. Contact us today at 702-260-6110 to schedule your free, in-home consultation and find the perfect shades for your home.