---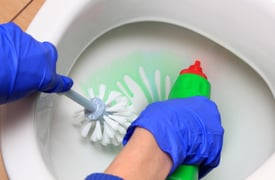 When cleaning your bathroom, do yourself the biggest favor of all and fill a spray bottle with roughly equal amounts of white vinegar and water. Vinegar has hundreds of household applications, and is especially efficient at cleaning glass (without leaving streaks) and other surfaces. Then, grab a plastic bag for garbage and a roll of paper towels. You might surprise yourself at how quickly you can clean a bathroom when you're organized and armed with an efficient plan of attack:
Remove any rugs and toss them in the hallway for now.
Lift the seat on your toilet and spray some bleach or toilet bowl cleaner around the rim and bowl. (In a pinch, the vinegar and water mixture will substitute nicely. But bleach and toilet bowl cleaners are generally more potent.) Let the solution sit for a few minutes.
Press the vinegar and water into active duty. Begin at one end of the bathroom and move around it in a circle, spraying it on every dirty or spotty surface, including the countertop, sink, faucet, mirror, shower doors or tub. (Tough or stubborn stains such as toothpaste splatters and soap buildup might require multiple applications.)
Return to your starting place and wipe the surfaces dry with a paper towel, disposing of it in the plastic bag when it becomes drenched and using another one.
Return to the toilet and scrub the bowl and rim. Flush the toilet to remove all traces of the cleaning solution.
Empty the contents of the garbage can (if you have one) into the plastic bag.
Begin at the far corner of the room and spray the vinegar and water mixture on your tile or vinyl floor. Vinegar and water is safe on both. Wipe the floor with paper towels as you move toward the door.
Shake out the rugs and place them on the floor.
Ensure your toilet tissue holder is full. Check that you have ample facial tissue, too.
With this efficient plan, you'll still have time to marvel at how clean and shiny vinegar and water will leave your bathroom – and how it will belie how much time it actually took to bring your bathroom to this refreshing state.
---