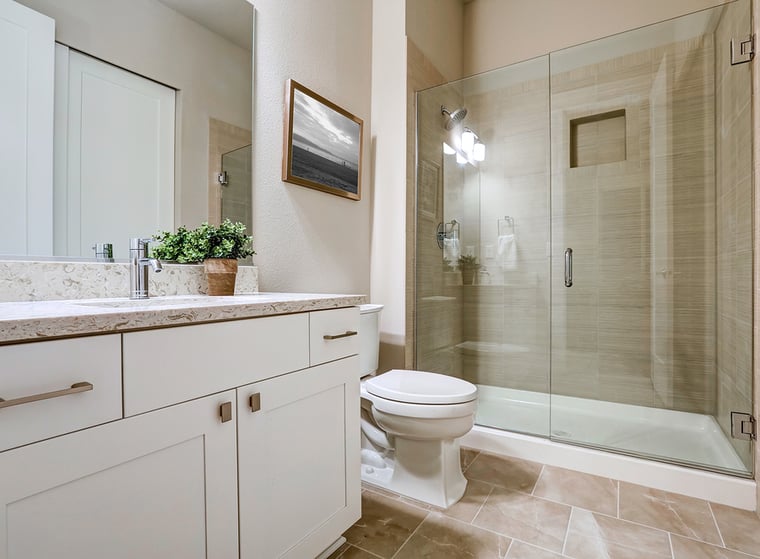 Transitional designs combine traditional and modern elements. To achieve this style, you have to combine design trends from several eras to come up with an outstanding bathroom. For instance, some designers take elements from 1960's style and combine modern components, such as updated hardware and straight lines to create a transitional look. The main features of a transitional design are neutral color schemes, natural elements, minimal ornamentation, and clean lines.
Here is a simple guide on how you can easily achieve this style in your bathroom:
Choose a Focal Piece
The first step is to select a statement piece for your bathroom. It could be a bathtub, cabinets, vanity, or faucets. If you go for something traditional, such as a claw-foot tub, choose modern faucets and cabinets to create an appealing juxtaposition. For modern statement pieces with vintage elements, choose a large glass walk-in shower that incorporates Victorian or mid-century cabinetry.
Mix and Match
Countertops and flooring play a vital role when it comes to creating a transitional bathroom. Choose rustic components, like wood cabinetry, and combine them with sleek hardware and modern furniture. Alternatively, you may also choose modern tiles combined with Victorian hardware and cabinetry.
What to Avoid
Although transitional bathrooms are a combination of contemporary and traditional styles, they don't go to the extremes of either direction. Some of the things to avoid are:
Bright color palettes

Highly embellished millwork

Cutting-edge trends

Heavy, traditional furnishings
Window Shades and Color Palette
When you choose warm or cool hues, window shades in this style of bathroom should be subtle and soft. For a rich look, consider gray, brown or blue tones. Some standard colors for transitional bathrooms include:
Soft neutrals. Silver, white, beige, chocolate, cream, gray
Serene hues. Soft green, blue-gray, blue
Rich colors. Chocolate, forest green, slate, charcoal, navy blue
Choosing the right window shade is essential because it helps tie all bathroom features together. Polar Shades's window shades come in a variety of colors and fabrics to beautifully accentuate your design.
In addition to the enhanced style, window shades also offer functional benefits. They protect your other design elements from harmful UV rays from the sun. This allows your furniture and décor to stay vibrant for many years. They also allow you to control the level of natural light to help open up the space, while also preserving your privacy.
All Polar Shades products are manufactured to the highest quality standards and are built to last. Each of our shades are thoroughly inspected before leaving our factory to ensure a flawless product. Contact us today to schedule a free, in-home consultation to find the right shades for your home.