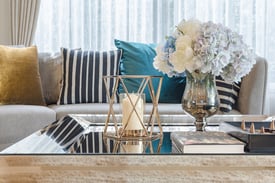 The best interior designers know: when you want to add stylish touches to your living room, it's not how much money you spend; it's how you spend it.
Most important? Remain true to what you love and the colors that energize you. You'll be more inclined to take chances, make unusual groupings and create a living room that carries your signature touch. And that's what real style is all about.
When you want to splurge but have to save, consider these seven ideas:
Reupholstering. You bought that old sofa stuck in the basement, so you must have loved (or at least liked) something about it at one time. If you still like the form but the fabric has grown old or outdated, give it new life with new fabric. Do the same with chairs (which may need a new coat of stain or paint) and benches.
Layering rugs. Natural fiber rugs can provide so much texture and color to a living room they often can go solo. (They're durable, too.) If not, even a large natural fiber room can be so budget-friendly you'll be able to afford to invest in a small and more expensive top rug.
Unconventional end tables. Let the fun begin by seizing upon the shape of an object: a sturdy basket, a huge, silver bucket turned upside down or even a stool with sprawling feet. When you love the shape of an item, you can top it with heavy glass or a large, round or oval platter to make an eye-opening end table.
Stacking books. Even if you're not an avid reader, a few large coffee table books can exude warmth and create height. Stack keepsakes and small frames on top of your favorite books for even more vertical appeal.
Streamlining pillows. Rather than outfitting, say, an entire sofa with designer pillows, choose one large pillow and fill in the look with smaller, less expensive pillows. Choose some in varying shapes to help complete the look.
Table and floor vases. Easier said than done? Not when you elevate color above shape (in this one case). You'll probably be more likely to keep a vibrant vase right where it is even when it's empty. Fill them with different flowers and branches depending on the season.
Save on energy by reconsidering your window shade choice. Depending on how much sun streams into your living room, it might make a prime candidate for duo shades, which offer a sheer or sun-control fabric on one side and a blackout fabric on the other. This two-in-one shade is mounted so it looks like one unified shade.
Install Window Shades in Your Home
Want to start saving money on energy bills in your home? Contact Polar Shades at 702-260-6110 for a free in-home consultation. Installing retractable window shades can help cut your energy bill up to 30%. Get started reducing your carbon footprint today and turn to the leader in window shade manufacturing; Polar Shades.