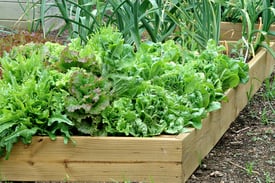 Packed with annuals, your container garden brightened your deck or patio throughout the spring and summer. But now the sun has taken its toll on its once colorful vibrancy.
As much as you hate to do it, you're ready to empty all the pots and relegate them to the shed or garage for the winter.
Before you get out the wheelbarrow, try refreshing your container garden for fall. Buoy your container garden through fall and beyond with these 6 tips:
1. Pull for pansies
Trying to keep spring and summer annuals (except impatiens) alive can be a losing battle. So exchange the wilting flowers in your container garden for pansies. Their delicate look belies their ruggedness. And if you look in the right places, you can find pansies in colors such as red, deep purple, orange and gold – beyond the more common white and pink.
2. Add a dash of bold color
Just what the "plant doctor" ordered-some warm-season plants will contrast nicely against the faded plants in your containers. Try a lime green ornamental sweet potato vine, wine-red coleus or coral bells. Make an even more dramatic statement by staggering the height of the plants so each one stands out.
3. Plant ornamental grass
People can be indifferent about ornamental grass. But there's something about sinking purple fountain grass in a pot that can make converts out of skeptics. This ornamental grass can grow tall (up to 5 feet) and wide (up to 4 feet), though it can always be trimmed back. In addition to colorful, purple fountain grass is resilient.
4. Tweak with texture
Long, twiggy branches, plants with colorful berries or even pine cones can add visual interest to a container garden. And who says you can't add a string of delicate lights? Texture invites double-takes and lights convey cool comfort.
5. Parlay with perennials
Fall is an ideal time to trade annuals for fall-blooming perennials. Try black-eyed Susans or chrysanthemums, but be patient. Perennials tend to improve and flourish with each passing season as they develop a strong root system.
6. Rearrange your containers
You know how rearranging items indoors can provide a jolt of design energy? The same concept works outdoors. If you're limited for space, try hanging pots on wall shelves, staggering them on stairs or suspending them from an overhang. Just as you did originally, keep plants with similar light and water requirements together.
As many gardeners know, some plants and flowers need extra nurturing before they're consigned to the outdoors. This is when indoor lighting conditions become crucial to their health. To ensure you have the best light conditions to encourage plant and flower growth, consider upgrading your window shades to the premier light-filtering shades offered by Polar Shades. Call us to make an in-home consultation at 877-260-6110 and see for yourself the various styles and colors that will put your home in the best light possible – and your flourishing container garden, too.