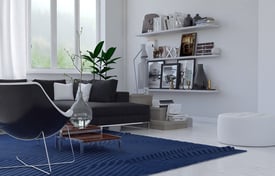 So, you aren't into having a beach cabana living room or nailing furnishings into the ceiling? Yea, neither are we. Leave the flashy and extravagant ideas to TV designers and consider the beauty of the neutral living room. Neutral living rooms are about subtle designs that still give the space character but with a more calming and classy approach.
Strike balance in your neutral living room with the following design tips:
1. Utilizing the room's features
Take a moment to fully appraise your living room and consider any striking features it might have. Maybe there is a big bay window or exposed wooden rafters -- whatever the case, use these as a central palette to add to, not detract from.
2. Black is always in
Soft black fabric and simple black picture frames are a great way to keep a neutral look while simultaneously giving a room a few bold touches. Remember to keep such touches simple. Black is beautiful, but only when it does not dominate a space, otherwise you risk creating a too modernesque or downright dreary look.
3. Spruce in woods
Wooden fixtures have always been a key aspect of home interiors. Of course, most people tend to opt for paler woods, like birch and light oak. We recommend mixing in some dark woods as well, perhaps a teak coffee table for the center or a pair of mahogany lamp stands.
4. Light up the center
Neutral living rooms aren't characterized by bright or bold paint schemes. Instead of blue walls or floral wallpaper, have a nice ceiling light draw the eye inwards. Incorporate some of the aforementioned tips to choose something like a modern black light accent or elegant dark wooden fan.
5. Be creative with wall pieces
Of course, just because walls remain a simple color in a neutral living room, doesn't mean they should stay completely bare. A few pictures and other creative wall decorations, maybe a mid-century map of your neighborhood or vintage Las Vegas casino advertisement, work great as accents. Plus, a few interesting pieces serve as good talking points when you have guests or family over.
6. Install window shades
Designing a neutral living room is a great excuse to fall in love with interior window shades. Light tan or white shades are ideal for this style decor and in addition to adding to your desired aesthetic, such shades offer cool relief during hot summers and a touch of privacy for street-facing windows.
Install interior shades by Polar Shades
For more information or help in choosing the perfect color and style shades to fit your interior design, contact the professionals at Polar Shades. Our experts are eager to assist and will perform a free in-home window shade consultation in order to get a full idea of your home's needs. Call Polar Shades at 702-260-6110 today.