---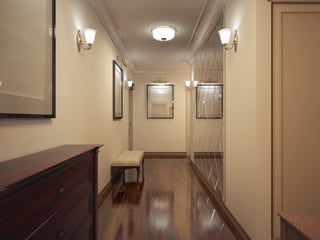 There are numbers of words used to describe small spaces or rooms, from cozy, cute, or charming, to cloying and claustrophobic. While you may not be able to physically enlarge the space, there are a number of savvy tricks you can employ to make them look, and feel bigger, including the five listed below.
Brighten Up Your Walls
There's no denying your choice of wall color directly impacts the mood, or feel of a room, but did you know you can also use it to create the illusion of space? While dark colors tend to make a room feel closed in, light colors can give it a bright, airy, spacious feel. This simple trick of the eye is due to light—dark colors absorb it, making the room feel smaller, while brighter shades, such as soft whites with a hint of green or blue, reflect light, bouncing it back and making the room feel larger.
Mirror, Mirror, On The Wall
Strategically placed mirrors, on walls, or other surfaces such as a side or coffee table, reflect both light, and their surroundings, creating brightness and depth. Try placing a mirror beside a window, to catch the light and reflect the outdoors, or across the room from a window, to enjoy the view from multiple angles.
Let There Be Light!
When it comes to making a room look bigger, nothing beats the addition of natural light. Bringing in an element of the outdoors not only extends your living space, but creates a focal point which naturally draws the eye outside. Interior window shades from Polar Shades help to effectively control heat, glare, and damaging UV rays from the sun, while allowing you to enjoy the view and open up your interior space.
Make Your Furniture Work For You
Choose pieces in scale with the size of the room, placing larger items against walls to maximize flow. Multipurpose items such as storage ottomans or chests, nesting tables, or expandable dining tables do twice the work, without taking up twice the space.
Ditch The Clutter
A cluttered room creates a cluttered mind, as the eye is consistently drawn from one object to the next. This excessive stimulation can make a room feel crowded, or closed in, and smaller than it is. Resist the urge to fill your walls with pictures, opting for one or two key pieces or a decorative mirror. Keep surfaces and floors clear, and create a single focal point in the room, such as a large piece of furniture or architectural element.
Create the illusion of space, using window shades from Polar Shades. Our team of knowledgeable, professional experts will help you choose the perfect interior shades to suit your decor and budget, while maintaining and directing the flow of natural light. Contact Polar Shades today at 702-260-6110 to learn more, and be sure to download our informative guide: Shades vs. Blinds: What's The Right Choice For You?
---