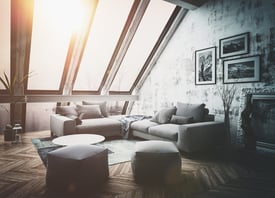 Window treatments can transform an otherwise ordinary room into a modern masterpiece. They can keep your home cool and comfortable and provide privacy. With so many options, choosing the right indoor shades for your home can seem daunting, but it doesn't have to be.
Just follow these 5 steps for choosing indoor shades for your home.
Step 1: Take a look at transparency
Some shades are built to blackout a room. Others offer soft light diffusion. Then there are those somewhere in between. Which is right for you depends on the room. Bedrooms and living rooms may require less transparency whereas kitchens and sunrooms may require a little more.
Step 2: Shield the sun
If you live in a sunny city like Las Vegas or Phoenix, so you'll want shades that shield the sun. It will keep your eyes comfortable and reduce cooling costs. Selecting sun-shielding shades can help keep your home cooler by keeping the heat from the sun out.
Step 3: Select the right shape and size
Precision matters when it comes to selecting the right shades for the right shape and size of a window. Some windows can accommodate all styles, others need custom-made shades. Make sure to measure carefully or consider working with a professional when you're selecting shades for odd shapes and sizes.
Step 4: Don't overlook operation
As with everything else in today's high-tech world, the window shade industry has turned to automation to make it easier than ever to operate your shades. Motorized shades provide carefree usability, but that doesn't mean you don't have other options. Talk to a Polar Shades specialist to find the best operation solutions for any room in your home.
Step 5: Aesthetics and the eye test for indoor shades
At the end of the day, you want your indoor shades to look great, fit your room's style and pass the eye test. This is something you're going to want to be sure to discuss with your Polar Shades specialist during a free in-home consultation.
When you are ready to choose the indoor shades that are absolutely perfect for your home call Polar Shades at 877-260-6110 or find a dealer here.