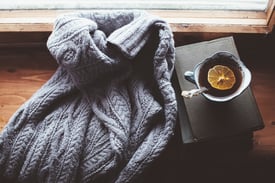 As fall approaches you want to mark the change of seasons with decorative flair. Be sure to welcome cooler temperatures while not letting the sun set on the outdoors. Here are 5 fall home essentials:
1. Spread Lightweight Blankets on Chairs and Couches
They're called throws for a reason: because you can throw them into place (and even from one family member to another). You may not need a lightweight throw on moderate nights. But on chilly nights or when there's a breeze, they offer an ideal way to stay warm without feeling saddled with the weight of a heavy blanket or afghan.
2. Consider Battery-Operated Candles
Consider is the operative word for traditionalists who believe nothing can compare to a natural flame. They may be right, but battery-operated candles have become increasingly realistic in recent years. And they offer some distinct advantages: they won't overheat a room or drain it of oxygen like a bevy of candles. And battery-operated candles can be easily moved from indoors to outdoors without ever blowing out.
3. Make a Statement with Fall Displays
Bring evidence of the changing seasons indoors. Gather (or purchase if you can't find them in nature) some acorns or berries and put them in a colorful bowl. Clip flower blossoms and put them in a short vase with water and glass marbles. Cut branches and drape them over a mantel. Or cheat and purchase some greenery from your favorite florist. You may get more enjoyment over a greater number of small displays than one oversized display.
4. "Dance" with Light
When the days get shorter and sunlight becomes less of a daily force, many people feel a psychological letdown. (In the most severe cases, it's known as Seasonal Affective Disorder, or SAD.) Even without the emotional distress, the lack of sunlight can hamper visibility. Counteract all these influences by adding new accent, ambient and task lighting fixtures to your home. Concentrate first on those areas with the most activity – the kitchen and family room – and move the pieces around until you orchestrate a pleasing overall effect.
Here's an idea that has autumn written all over it – a shade that allows you to enjoy the outdoors while blocking out the peskier elements found there, especially insects and rain. ZipRite Shades cover areas up to 14 feet long and 18 feet wide – effectively adding to the living space of your home. A ZipRite Shade can be the crowning touch to the lightweight blankets, candles, fall displays and lights that will enhance your enjoyment of autumn. Call Polar Shades at 702-260-6110 and make an appointment for a free in-home consultation – and prepare to fall for the Polar Shades selection as surely as you fall for the season.