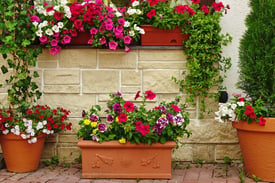 The backyard – it's the outdoor gathering space for your entire family. Make it everything you've ever dreamed of by customizing it with a few DIY projects. Here are a few backyard project ideas to help you get started. When looking for outdoor window shades for your home skip doing it yourself and contact Polar Shades to get started.
1. Plant Wall
A plant wall is a DIY idea that will work in any backyard, big or small. The first step is to build a frame to hold the plants. Attach cross pieces, lattice, or wire to the frame, then use wire to attach pots to the wall. Your wall can be freestanding or attached to the side of your house or fence. In addition to adding more greenery to your backyard, the plant wall can also serve as an excellent divider or privacy barrier.
2. Outdoor Window Shades
Even spending times in the great outdoors can have some downsides. The hot and blinding rays from the sun can make it hard to get comfortable. Installing outdoor window shades on your home makes a tremendous difference. You can enjoy the unobstructed view from your patio minus the sun's glare. They provide complete shade while also blocking up to 98% of the sun's rays. Outdoor window shades make it comfortable to sit outside and are effortless to retract.
3. Outdoor Bar
Give new life to an old hutch by repurposing it as an outdoor bar. It is amazing what a fresh coat of paint can do to an old piece of furniture. Since this will be staying outdoors, be sure to use exterior paint for durability. Remove any cabinet doors and upgrade the hardware for a completely new look. The bottom cabinetry is the perfect place to keep a mini fridge for ice and refreshingly cold drinks.
4. Revitalize the Rugs
This DIY project might surprise you a little – did you know you can paint outdoor rugs? This shocking tip can add personality to an old, dull rug. All you need is paint, a paint brush, and some painter's tape. When you're done, you will have a completely customized rug to match your patio or deck furniture.
5. Build a Bench
An outdoor bench is easily one of the most functional pieces of outdoor furniture. In addition to providing outdoor seating, the inside of the bench can be used as a storage chest for yard tools or outside toys. With a basic understanding of woodworking, building a bench should be a quick and easy DIY project. The design can be as simple or ornate as you wish. When you're done, put a few cushions on it for comfort and a splash of color.
Contact Polar Shades, the Outdoor Window Shade Experts
If you are looking for outdoor window shades, Polar Shades has plenty of great options for you to choose from. As an added bonus, they will even install them for you, so you have more time to spend on your backyard DIY projects. Contact Polar Shades at 702-260-6110 for more information and to arrange your free in-home consultation.