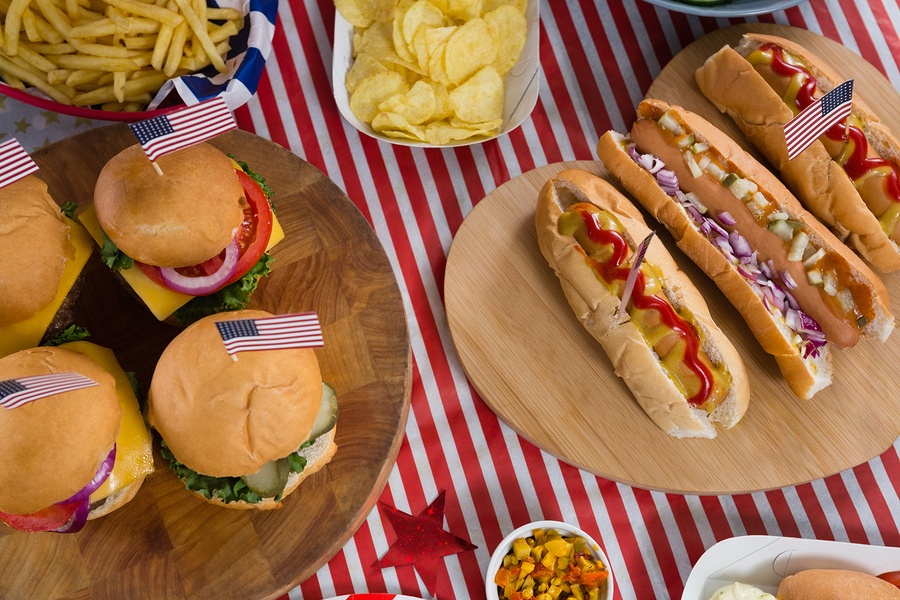 Between grilling, swimming and fireworks, the Fourth of July can be full of activities.
If you plan on hosting a Fourth of July party at your home, you know you cannot be everywhere at once or see around every corner. This is why it's in your best interest to lay down some "house rules" to keep your guests safe around the grill, pool and with the fireworks they may be tempted to ignite to close out the day. You may even want to post these rules and engage your guests in conversation about them so they stay top-of-mind throughout the party:
Don't take chances around the grill
Keep children far away from the grill at all times.
Do not allow people to smoke near a grill with a propane tank.
Do not use gasoline instead of starter fluid.
Do not add lighter fluid to coals that are already hot and red.
Never leave a lit grill unattended. If you must walk away – say, to grab a platter of food from indoors – ask an adult to supervise the grill in your absence.
Keep a fire extinguisher next to the grill at all times.
Don't take chances around the pool
Require people of all ages who are not competent swimmers to wear a life jacket.
Ask all of your guests to designate a "swim buddy" – one person who will keep an eye on them (and vice versa) while in the water. (No one of any age should ever swim alone. It's not only a matter of being a competent swimmer; it's a precaution in case a medical emergency occurs.)
Insist a supervising adult stay within arm's reach of a child in the water at all times.
Enforce the "walk only" rule around your pool.
Don't take chances with fireworks
Play it safe and ask your guests to pull up a chair (and watch a community fireworks display) rather than open a package of fireworks. If your declaration of independence elicits groans, remind them that fireworks ignite about 15,000 fires a year, according to the National Fire Protection Association.
Firecrackers and sky rockets may seem especially dangerous, but it's actually sparklers that cause the greatest number of bodily injuries (probably because they are considered "safe" by comparison), the NFPA reports.
If your adult guests insist on lighting sparklers – they are, after all, adults –ensure there is either a bucket of water or a hose within reach to extinguish a wayward wand or flame.
Install Window Shades in Your Home
Once you help your guests safely navigate the Fourth of July, make a note to call Polar Shades on July 5th to make an appointment for a free in-home consultation. You may want to purchase news shades to reward yourself for keeping your guests' safe, but with summer nearly halfway gone, the time is right to update your windows before fall and winter – and a new set of holidays. Contact Polar Shades at 702-260-6110 today.