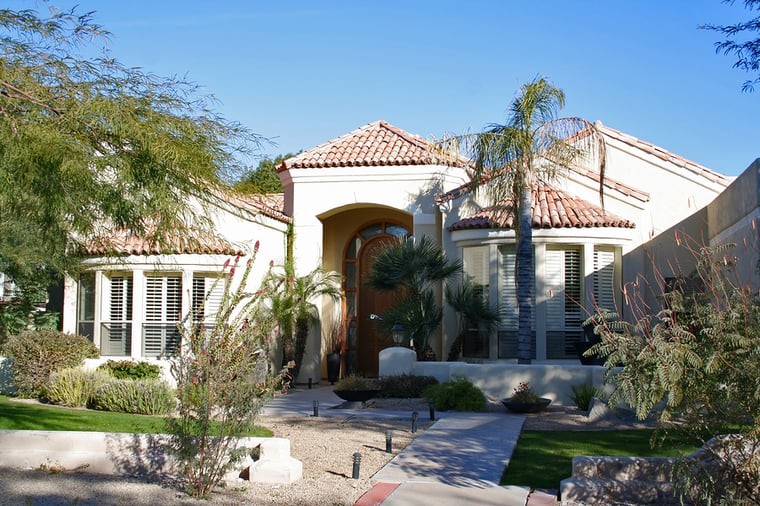 You want a fantastic-looking yard, but you also want a space that's easy to maintain and environmentally friendly. You can have the best of both worlds by integrating features and designs that enhance the look of your landscape while being kind to the earth. Check out a few great elements that will help you create a stylish, sustainable landscape for your home:
1. Gardens with Minimal Irrigation Needs
When creating a landscape that's sustainable, one important detail to keep in mind is the garden's irrigation needs. Plants and trees that require more than the average rainfall for your area demand supplemental irrigation in order to thrive. This means that you'll have to spend your financial resources watering the plants and increase the impact of your garden on the environment.
Instead, create a garden with minimal irrigation needs. Look for plants that are suited to your climate. When drought occurs, have your own additional water on-hand by placing rain barrels around your property. Plant grasses that have low watering needs and be strategic about where you integrate grass. Consider swapping small areas of grass for rocks or other ornamental stones.
2. Plants that Are Native to Your Area
Plants that are native to your area are usually significantly more sustainable than non-native species. Not only do native plants have watering needs that match the climate, but they're adapted for the temperature and soil in your area. This means that you'll spend less time and resources fertilizing and feeding the plants. Native plants also attract helpful insects like bees and ladybugs that will help your garden be self-sufficient.
3. Materials from Local Sources
Once you've got the plants picked out for your landscape, it's time to turn your attention to the other materials in your garden. Stone, brick, wooden planks, gravel, and concrete can all be useful for adding structure to your landscape, enhancing your soil's drainage and boosting the aesthetics of your home's exterior.
Whenever possible, choose materials that are from local sources, as it costs fewer natural resources to transport these materials to your home. Don't be afraid to repurpose or reuse items that would otherwise be disposed of. This gives your landscape a unique look and it keeps these items out of the landfill.
4. Features that Won't Disturb Nearby Wildlife
You don't want the lighting features in your garden to disturb nearby wildlife. If wildlife is attracted to your garden, you'll have to expend resources to keep them away or prevent them from eating your plants. Be selective when deciding how to incorporate lighting into your landscaping. Try to use low-voltage lights that minimize your energy consumption and the amount of light in your yard. Another option is to incorporate motion-sensitive lighting that only comes on when movement is detected.
Elevate Your Exterior Aesthetic
A beautiful landscape adds character and style to your home's exterior. You can complement this by choosing decorative elements that enhance your outdoor aesthetic. One great option is exterior window shades. Offered in a variety of colors, fabrics and patterns to give you the look you want, they also help increase the comfort of your outdoor space by blocking the sun and UV rays. This also helps preserve your outdoor furniture. Contact Polar Shades at 702-260-6110 to schedule a free, in-home consultation.