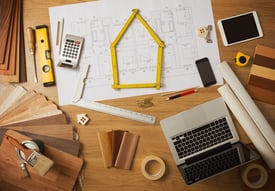 Designing your home should be a fun undertaking. You get to impart your own unique style while experimenting with colors, textures, and technology that can make your living situation brighter. If you take a wrong turn, however, your design dreams could turn into decorating disasters.
To help you avoid those unfortunate pitfalls, take a look at these ten design don'ts:
1. Leave Red Out of Relaxing Spaces
No matter how much you love shades of scarlet, it's best to keep them away from bedroom walls. Oranges, reds, and super yellow hues are energizing colors that will most likely lead you away from restful nights.
2. Plan Your Place Piece-by-Piece
Big-box furniture stores have plenty of ready-to-use furniture sets, but they usually only work for a specific room size and shape. Before you go all-in, consider shopping around for individual pieces that fit the frame of the room they'll be living in.
3. Put Your Measuring Tape to Work
Unfortunately, this pitfall is all too real for many people. Before you purchase any piece of furniture, no matter how small it may seem, measure your doorways, hallways, and every place the item will need to pass through.
4. Keep the Carpet Out of the Kitchen
You may be in love with the textile you just found, but -- rest assured -- you'll regret a kitchen installation soon enough. Bathrooms, kitchens, and laundry rooms were born to have bare floors. There's too much mess and moisture that can cause problems in the future if you carpet these rooms.
5. Go with Professionals
Hiring relatives can save you money, but it will cause you far more headaches -- for several reasons -- than you're probably bargaining for.
6. Shop Around
No matter how smooth-talking the first sales guy is, take his recommendations, then see what is out there. By doing your due diligence, you'll find reputable contractors who will submit fair bids.
7. Buy Your Bedding First
Don't let your walls take over your space. Work from the bed to the walls to ensure you have a comfortable bedroom where all the pieces work well together.
8. Keep Your Kitchen Sink Front and Center
Corner-positioned kitchen sinks can be awkward to use, and they usually end up wasting much-needed counter space.
9. Know Where Your Area Rug Will Go Before You Buy It
Of course, it will go on the floor, but how big will it be? How much space will it take up? Lay tape or paper on the floor to mark the ideal area before you buy.
10. Always Read Your Contract
Fine print is a fine thing. Before you sign on the dotted line, make sure you've read -- and understand -- everything laid before you.
Contact Polar Shades
At Polar Shades, we specialize in fashionable, highly functional window coverings. In our world, great design incorporates the best of both worlds, and we're happy to show you how to improve your living space with our outstanding products. Schedule your free in-home consultation by calling 702-260-6110 today!